About Us
We have a very proactive approach to our large animal work with many of our dairy farms benefiting from regular fertility visits and we encourage active herd and flock health planning to monitor and prevent disease and improve production.
Client education is an important part of this strategy and we hold regular well attended meetings to keep our clients up to date and produce regular farm and equine newsletters. We also deliver practical on-farm training to small groups of farmers through the XLVets Farmskills training programme.
All our vets are encouraged to attend regular training courses themselves. This, together with our involvement with XLVets, ensures that we are able to offer an excellent and up to date service at all times. 
We provide a 24 hour call out service for all livestock and equine related problems and we always have a dedicated large animal vet on-call just to deal with farm and equine emergencies.
Some examples of our services
Farm Fertility Visits

Farm Healthcare Plans

Routine and Pre-Movement TB testing

Equine vaccinations

Geldings

Pre-purchase examinations

Bull and Ram Fertility Testing

Farmer education meetings and on-farm training

Animal and meat export certification

We treat a variety of other species including goats, alpacas and pigs
Practice Information
COVID-19
We are continuing with visits but the health and safety of our team and clients is paramount.
If you are self isolating or have symptoms of Coronavirus, please let us know when booking a visit and make arrangements for someone else to be present to meet the vet and handle your animal/s.  Please do not be offended if you are asked when you ring in to book a visit.
Please pre-order all medicines by phone so that time at the practice can be kept to a minimum.  We ask that you do not attend the practice to collect medicines if you are self isolating and that you send someone else on your behalf.
As ever, if you have any concerns, please give us a call.
Fees and drug charges
All fees and drug charges are subject to VAT at the current rate.  Fee levels are determined by the time spent on a case and according to the drugs, materials and consumables used.  You will receive a detailed invoice for every visit, surgical procedure or transaction with us.
Estimates
We will happily provide an estimate as to the probable costs of a course of treatment. Please bear in mind that any estimate given can only be approximate – often a patient's illness may not follow a conventional course and treatment plans will vary dependant upon earlier test or treatment results.
Settling accounts
Your account may be settled by Cash, Cheque, Credit Card (Mastercard, Visa, Delta) or BACS
Problems settling accounts
Farm and Equine clients are usually billed monthly, with bills being sent out in the first week of each month.  New clients will be required to pay cash at the time of their first visit.  We expect payment in full within 30 days of receipt of the invoice.  Reminder letters will be sent for unpaid accounts and administration fees will be added. 
In the event of a failure to settle the account, debt recovery will be actioned.  Severely overdue accounts will be referred for recovery via a debt collection agency or the County Court and further charges (£ 40 minimum) will be levied in respect of costs incurred in collecting the debt.  Should this action become necessary, this may lead to withdrawal of our Veterinary services your animals.
Any cheque returned by our Bank as unpaid, any Credit Card payment not honoured and any Cash tendered that is found to be counterfeit will result in the account being restored to the original sum with further charges added in respect of bank charges and Administrative costs.
Inability to Pay
If, for any reason, you are unable to settle your account as specified, we ask you to discuss the matter as soon as possible with our administration manager, Mrs Debbie Homes. Please note that any agreement to suspend account fees can ONLY be sanctioned with the express permission of our practice manager or one of the Directors.
Equine insurance
We strongly support the principle of insuring your horse against unexpected illness or accidents.  Please be aware it is your responsibility to settle your account with us and then reclaim fees. 
In exceptional circumstances we may allow payment to be delayed pending payment directly from your insurer. This arrangement will incur a late payment fee (not normally reclaimable from your insurer). Where there is a delay in payment of our fees caused by your insurer your account may incur further monthly fees. If the delay exceeds 3 months we will expect you to pay our outstanding fees (and any incurred charges) and await payment from your insurer.
Patient Records
Whilst all medical records relating to your animals are the property of Midshire Veterinary Group we are happy for you to view these at any time by request.
Visits
Visits can be arranged by contacting our large animal office on the above number, or, in emergency, by speaking to the duty vet. We do not do routine calls at weekends or after 6pm. Emergency visits at these times are charged at a higher rate.
We have several vets on calls throughout the morning and usually 2 or 3 in an afternoon and so are able to try and arrange a suitable time to meet you at your convenience. We can usually book routine appointments in within the following few days.
Please be aware that other calls will also be booked and that emergency calls will always receive priority. Please make sure we have a contact number available in case, in the event of us having to divert to an emergency and know we are going to be delayed, we can contact and advise you of this.
Please arrange vaccination visits well in advance – we cannot guarantee being able to attend if you ring on the day of expiry.
Please advise us at the time of booking the call of all the work you wish us to do. One of the commonest reasons we can become late with our visits is because of "while you are here..." requests that we were not told about. Telling us at the time of booking the visit helps us plan our schedule accordingly and keep on time.
Out of Hours
During all periods when the practice is closed, a Veterinary Surgeon is always on call to deal with emergencies.  Please call the surgery on 02476 381494 or 02476 384064 to obtain the telephone number of the duty vet.
Attending the surgery
Our farm office, and separate entrance to the surgery for large animal clients, is located to the right hand side of the front of our surgery premises and is identified by the large Midshire farm sign. Please press the buzzer and the door will be unlocked for you.
Please note that on Saturdays (and occasionally at other times eg due to staff illness) this entrance will be closed. If this is indicated to be the case, please enter through the small animal reception doors to the far left of the surgery.
Any drugs to be collected will normally be ready for collection from the farm office reception.
Please note that since on a Saturday phones are answered by our small animal staff, this is not an ideal time to order farm medicines
Referrals
Should your animal require more specialised treatment or hospitalisation we are able to arrange this.
Repeat Prescriptions
Only Veterinary Surgeons are able to prescribe and authorise medication. Veterinary Surgeons may also only provide medication to animals under their care. The vast majority of routine drugs are available at the practice.  Special orders can be arranged for the following working day.  Clients are requested to give 2 hours notice to request medications to allow our farm reception team to have your order ready for collection.
For those patients on long term medications, repeat prescriptions/dispensing may be authorised by the case veterinary surgeon. The period of time that prescriptions can be dispensed for will vary on a case by case basis and will be as advised by the vet. This may vary from a few weeks to several months dependant upon the condition being treated and the condition of the patient.
There is an upper limit on the amount of time we can legally supply repeat medications for before we need to perform a review.  In these instances a visit will be required.
Written prescriptions can be provided on request. There is a fee for this service.
Students and EMS
Like many veterinary practices, we are not only involved in training the next generation of veterinary nurses, but also vets as well.
Veterinary students are required as part of their university training to spend a significant portion of their time between terms undergoing further "practical" training with veterinary practices - Extra Mural Study (formerly "seeing practice", for those of us of more senior years!).
As a large mixed practice, it is not unusual for us to have multiple students with us for a large percentage of the year.
Veterinary students wishing to 'see practice' with us can now book with us via the VetEMS website, run by XLVets. Please click on the logo to request a booking (website will open in a new window).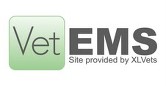 We also receive a large number of requests from school and college 'pre-veterinary' students wishing to find a placement for their work experience. These requests should be made via email, enquiries@midshirevets.co.uk
Please note, however, that we receive many more requests for such placements than we have availability. We give preference to university undergraduate students, and all our availability is booked many months (sometimes a year or so!) in advance.
We encourage younger students considering becoming a vet to gain experience with animals via such means as work on farms, at stables, kennels or other similar placements. Such experience will be invaluable when applying for a veterinary degree course.
You can find more information on veterinary careers at the RCVS website here or by clicking on the logo.
Complaints
We hope you never have the recourse to complain about the service received from Midshire Farm and Equine.  However, if you do have concerns please contact the farm office and ask to speak to a Director.  Dependant on the nature of your complaint you may be asked to put your concerns in writing.
We hope these questions help you understand our Terms of Business please feel free to contact the practice with any further questions you may have.
No addition or variation of these conditions will bind the practice unless it is specifically agreed in writing and signed by one of the practice Directors. No agent or person employed by, or under contract with, the practice, has the authority to alter or vary these conditions in any way.